Story from my personal memory : create is believe, letters to myself. Research-creation for self-understanding
Relato de mi memoria personal : crear para creer, cartas a mí misma. Investigación-creación para la comprensión de sí misma
Recit de ma mémoire personnelle : créer pour croire, lettres à moi-même. Recherche-création pour la compréhension de soi
The research-creation entitled, "Stories of my personal memory: creating to believe, letters to myself" is a work of personal and intimate character that investigates the mechanisms that sustain affective relationships mediated by violence and by the emancipatory route driven by the creative experience through the analysis of my intimate diary and the Letters to myself, in relation to popular songs of my social life history that function as bridges that link culture, narrative, emotions and autobiography.I name these mechanisms as emotional categories since they are forms of feeling that we learn in cultural interaction and I approach them from a sociological theoretical perspective by turning to authors who have investigated the subject. The first of these is being a woman as a socially constructed idea and I divide it into the good woman as a goal, the disciplined woman, the academic woman, the woman as an idea of inferiority to men, the idea of wanting to be someone else in order to be accepted and the new woman. The next category is love, where I inquire about the social construction of love, I propose to speak of dramatic love and define two dimensions, the religious dimension and the economic dimension.Another category that sustains violence is sexuality and the feelings that we as women have about it, either one is a virgin or a whore, and the fears related to teenage pregnancy and sexually transmitted diseases, to conclude by proposing a woman's desire. The last emotional category I find is loneliness as a privilege and as a taboo.On the other hand, by reviewing literature in disciplines that have conducted research on everyday and intimate issues such as microsociology, and by using a narrative approach to define the methodology route, I find that inquiring into personal and intimate aspects can give results that encompass a broader community and generate research methodologies of their own, in this case from creation.In these results I find that autobiographical writing reveals that it is the beliefs we have about emotional categories, that is, about ways of feeling that validate, reproduce and maintain the ways of acting as we accept a stereotyped vision of the role assigned to us in terms of gender and class. These beliefs are part of a common social story, which we learn and are reinforced through a process of tradition transmitted through cultural productions such as song lyrics, and it is precisely the creative processes that we do in artistic, academic and social spaces, when we relate to each other in everyday life, the elements that allow people to find ways of emancipation in the face of affective relationships mediated by violence.As for the creative process in the course of the thesis, there are stories that complete the narratives that I found in the intimate writing. These stories are titled, Separatas. In the same way, at the end I present a literary production that I created from the findings in creative writing workshop spaces and that rewrite the story, that is to say, it is created to believe in itself again.
La investigación-creación titulada, "Relatos de mi memoria personal: crear para creer, cartas a mí misma" es un trabajo de carácter personal e íntimo que indaga por los mecanismos que sostienen relaciones afectivas mediadas por la violencia y por la ruta emancipadora impulsada por la experiencia creativa a través del análisis de mi Diario íntimo y las Cartas a mí misma, en relación con canciones populares de mi historia de vida social que funcionan como puentes que vinculan la cultura, la narrativa, las emociones y la autobiografía.A estos mecanismos los nombro como categorías emocionales ya que son formas del sentir que aprendemos en la interacción cultural y las abordo desde una perspectiva teórica sociológica acudiendo a autores y autoras que han indagado al respecto. La primera de ellas es el ser mujer como una idea construida socialmente y la divido en la buena mujer como meta, la mujer disciplinada, la mujer académica, la mujer como idea de inferioridad frente al hombre, la idea de querer ser otra para ser aceptada y la nueva mujer. La siguiente categoría es el amor, allí indago por la construcción social del amor, propongo hablar del amor dramático y defino dos dimensiones, la dimensión religiosa y la económica.Otra categoría que sostiene las violencias es la sexualidad y los sentimientos que como mujeres tenemos sobre ella, o se es virgen o se es puta y los miedos relacionados al embarazo adolecente y a las enfermedades de trasmisión sexual para finalizar proponiendo una mujer deseo. La última categoría emocional que encuentro es la soledad como privilegio y como tabú.De otro lado al revisar literatura en disciplinas que han realizado investigaciones cuyos temas abordan asuntos cotidianos e íntimos como la microsociología y al usar un enfoque narrativo para definir la ruta metodología, constato que indagar en aspectos personales e íntimos puede dar resultados que engloben a una comunidad más amplia y generar metodologías de investigación propias, en este caso desde la creación.En estos resultados encuentro que la escritura autobiográfica revela que son las creencias que tenemos sobre categorías emocionales, es decir sobre formas del sentir las que validan, reproducen y mantienen las formas de actuar en tanto aceptamos una visión estereotipada del rol que se nos asigna de género y clase. Estas creencias hacen parte de un relato común social, que aprendemos y son reforzadas mediante un proceso de tradición transmitido mediante producciones culturales como las letras de canciones, y son precisamente los procesos de creación que hacemos en espacios artísticos, académicos y sociales, cuando nos relacionamos en la vida cotidiana los elementos que permiten a las personas encontrar caminos de emancipación frente a relaciones afectivas mediadas por la violencia.En cuanto al proceso creativo en el trascurso de la tesis se encuentran relatos que completan las narraciones que fui encontrando en la escritura intima. Estos relatos los titulo, Separatas. Del mismo modo al final presento una producción literaria que cree a partir de los hallazgos en espacios de taller de escritura creativa y que reescriben la historia, es decir se crea para volver a creer en sí misma.
Cette recherche-création, intitulée "Histoires de ma mémoire personnelle : créer pour croire, lettres à moi-même", est un travail personnel et intime qui étudie les mécanismes soutenant les relations affectives médiatisées par la violence. Elle met en évidence la voie émancipatrice que représente l'expérience créatrice, à travers l'analyse de mon Journal intime et de mes Lettres à moi-même, en rapport avec les chansons populaires de l'histoire de ma vie sociale, qui fonctionnent comme des ponts reliant la culture, le récit, les émotions et l'autobiographie.J'appelle ces mécanismes des « catégories émotionnelles », car il s'agit de types de sentiments que nous apprenons par l'interaction culturelle, et je les aborde dans une perspective théorique sociologique, en m'appuyant sur plusieurs auteurs qui les ont explorés. La première catégorie est celle d'être une femme en tant qu'idée socialement construite et je la divise en: la femme bonne en tant qu'elle est un objectif, la femme disciplinée, la femme académique, la femme en tant qu'idée d'infériorité par rapport aux hommes, l'idée de vouloir être quelqu'un d'autre afin d'être acceptée, et la femme nouvelle. La catégorie suivante est celle de l'amour, où j'étudie la construction sociale de l'amour. Je propose de parler d'amour dramatique et j'en définis deux dimensions : la dimension religieuse et la dimension économique.Une autre catégorie qui soutient la violence est celle de la sexualité et les sentiments que nous, en tant que femmes, éprouvons à son égard – que l'on soit vierge ou putain –, et les craintes liées à la grossesse chez les adolescentes et aux maladies sexuellement transmissibles ; enfin je propose le désir de la femme. La dernière catégorie émotionnelle que j'ai trouvéec est celle de la solitude, comme un privilège et comme un tabou.D'autre part, en examinant la littérature dans des disciplines qui ont mené des recherches sur des questions quotidiennes et intimes, comme la microsociologie, et en utilisant une approche narrative pour définir le parcours méthodologique, je constate que le fait d'enquêter sur des aspects personnels et intimes permet de donner des résultats qui englobent une communauté plus large et de générer des méthodologies de recherche propres, dans ce cas à partir de la création.Dans ces résultats, je constate que l'écriture autobiographique révèle que ce sont les croyances que nous avons sur les catégories émotionnelles, c'est-à-dire sur les manières de ressentir, qui valident, reproduisent et maintiennent les manières d'agir dans la mesure où nous acceptons une vision stéréotypée du rôle qui nous est assigné par le genre et la classe sociale. Ces croyances font partie d'un récit social commun, que nous apprenons et que nous renforçons par le biais d'un processus de tradition transmis par des productions culturelles, telles, entre autres, les paroles de chansons. Ce sont précisément les processus créatifs que nous menons dans les espaces artistiques, universitaires et sociaux, lorsque nous entrons en relation les uns avec les autres dans la vie quotidienne, qui permettent aux personnes de trouver des voies d'émancipation face aux relations affectives médiatisées par la violence.Quant au processus de création au cours de la thèse, des histoires qui complètent les récits que j'ai trouvés dans l'écriture intime. J'appelle ces histoires des Separatas. De même, à la fin, je présente une production littéraire, que j'ai créée à partir des résultats obtenus dans les espaces de l'atelier d'écriture créative, et qui réécrit l'histoire initialement vécue, Autrement dit, il s'agit de créer pour croire à nouveau en soi-même.
Fichier principal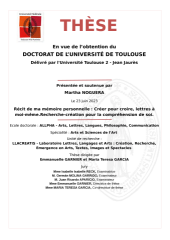 Noguera_Fonsesca_Martha_Judith.pdf (4.2 Mo)
Télécharger le fichier
Origin : Version validated by the jury (STAR)